The Keybiotics Difference
"

Evidence from clinical research demonstrates that adding 'good' bacteria to the diet promotes a healthy digestive and immune system.
- Dr. Allan Walker, Harvard Medical School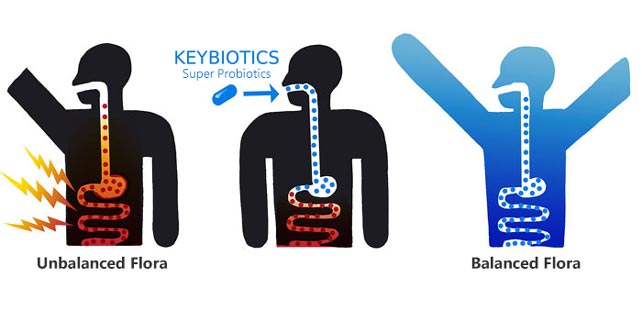 Keybiotics is a probiotic supplemented containing 14 strains of beneficial bacteria. This includes Lactobacillus acidophilus DDS-1, which has been designed to target bacteria overgrowth in your colon, a critical area most strains never even reach.
"

Get your probiotics through a supplement that offers a variety of strains (at least 10), including Lactobacillus acidophilus and Bifidobacterium, and contains at least 10 billion active bacteria per capsule.
- Dr David Perlmutter, Best-selling Author of, "Grain Brain"
The Keybiotics Difference
| | |
| --- | --- |
| | 37.5 Billion colony-forming-units per capsule |
| | 14 unique strains of bacteria, including super-strains Lactobacillus Acidophilus and Bifidobacterium |
| | Same strains used in 90% of probiotic clinical studies |
| | Engineered to withstand stomach acids and bile, populating your entire G.I. Tract |
| | Gluten-free, lactose-free, and completely allergen-free |
| | Every batch is 3rd party tested by an independent laboratory for purity and potency |
Keybiotics Includes These 14 Potent Strains:
1.

Lactobacillus Acidophilus DDS-1®- this strain outperforms virtually any other strain. What sets Lactobacillus Acidophilus DDS-1® apart?

It adapts well to the human digestive system, colonizing better than other probiotics
It's hardy enough to survive your stomach acids, ensuring that more of it gets to your digestive tract
It bolsters your immune system
It creates lactase, which is useful for dealing with lactose intolerance
It's the most versatile and effective probiotic currently available, helping you to feel great and stay regular

2.

Bifidobacterium Lactis- fights against diarrhea and bolsters your immune function. Flu patients given Bifidobacterium Lactis saw an increase in antibodies, helping them fight off infection and recover faster

3.

Lactobacillus Plantarum-one of the toughest strains, this survives your stomach to get to work in your digestive tract. This bacteria can help with the symptoms of IBS, Crohn's disease, and colitis

4.

Lactobacillus Rhamnosus-found in yogurt and dairy products, this strain can practically do it all, including helping with respiratory and urinary tract infections, skin conditions, and even reduce anxiety!

5.

Lactobacillus Casei-this bacteria can inhibit the growth of H. pylori, which is thought to be the leading cause of ulcers and other forms of gastrointestinal distress. If you frequently experience stomach pains and other discomfort, then you should definitely try to get as much Lactobacillus Casei in your system as possible

6.

Lactobacillus Salivarius-besides being fantastic at fighting off disease-causing bacteria, this strain also fights bad breath! Most halitosis is actually caused by bacteria in your digestive tract, so stop the problem at its source

7.

Lactobacillus Bulgaricus-this probiotic lives in your intestinal lining, and is perfect for ridding your digestive system of toxins. It also produces its own natural antibiotics, keeping you healthy and active

8.

Bifidobacterium Breve-food allergies and gas are just two of the problems you can encounter when you have a shortage of this strain. Bifidobacterium Breve has been called the "champion" of probiotics for its ability to break down almost any kind of food, making digestion a quick, easy- and painless- procedure

9.

Lactobacillus Paracasei-because this strain is so effective at reducing your digestive tract's workload, it can actually reduce the effects of chronic fatigue syndrome. You'll be amazed by how much energy your body uses for digestion- Lactobacillus Paracasei gives you some of that energy back

10.

Lactococcus Lactis-this little bug has become famous recently for being the first organism used alive for treating human disease. Scientists have also been experimenting with using this bacteria in vaccines, as it's so readily absorbed by the body- meaning it will multiply the effectiveness of every other probiotic as well!

11.

Streptococcus Thermophilus-this bacteria breaks down lactose, making it a must-have for the lactose intolerant. There have also been indications that it fights cancer, as mice that have taken this probiotic had 1/3 less cancer than others given a placebo

12.

Lactobacillus Brevis-an incredible booster for your body's natural defenses, Lactobacillus Brevis has been clinically shown to increase cellular immunity.

13.

Bifidobacterium Bifidum-one of the best microbes for restoring your delicate bacterial balance, Bifidobacterium Bifidum ensures you have a healthy mix, protecting against infection and helping spur digestion

14.

Bifidobacterium Longum-this bacteria actually prevents the growth of bad microbes, as opposed to just killing them. This makes it fantastic for maintaining a healthy gut, and avoiding illness altogether.
Citations